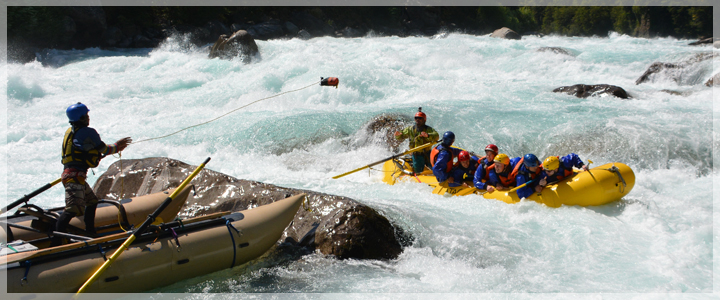 "Safety is the number one priority at Patagonia Elements"
Patagonia Elements has been safely running the Futaleufu River,  (without an accident of any kind) for over ten years. Our by-lingual  guides, are some of the most experienced on the Futaleufu with an  average of 6 years experience on the Futaleufu. Following the highest  industry standards(in the world), we employ safety catarafts and  safety kayaks on every trip. This strong safety net insures errant  swimmers are immediately rescued.
Patagonia Elements uses the finest rafts with foot cups in the  industry. Built  by "Sotar", in Grants Pass, Oregon, these rafts were  custom designed specifically for use on the Futaleufu. We strictly  follow high water guide line cut offs measured on a series of river  gauges along the river. If the water is too high for a departure and  we have to cancel the trip, we will either refund the guest or give  them a credit to come back the following day or when the water recedes  to a safe level.