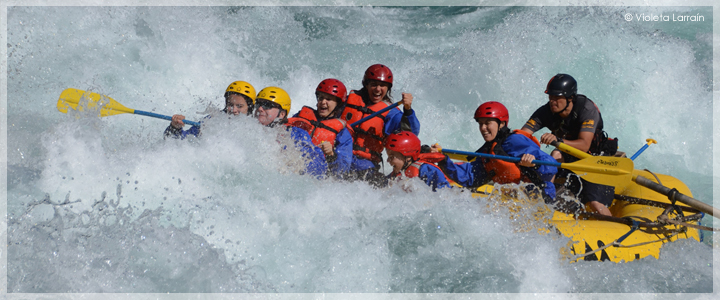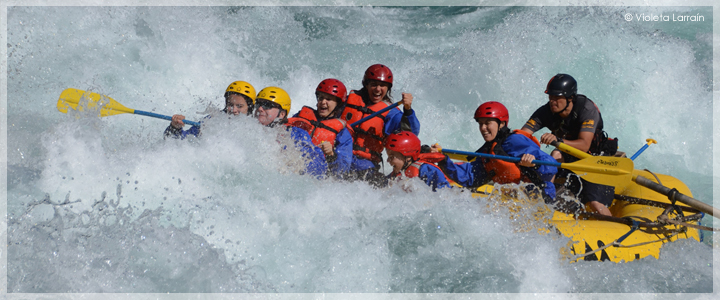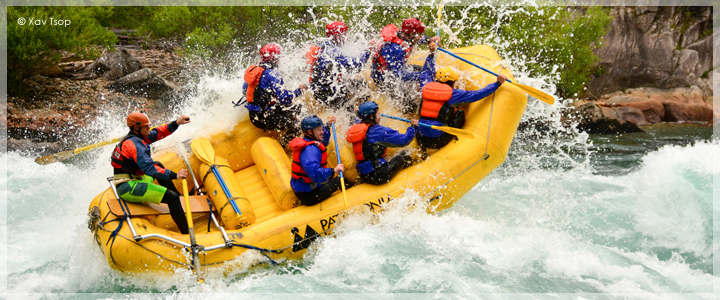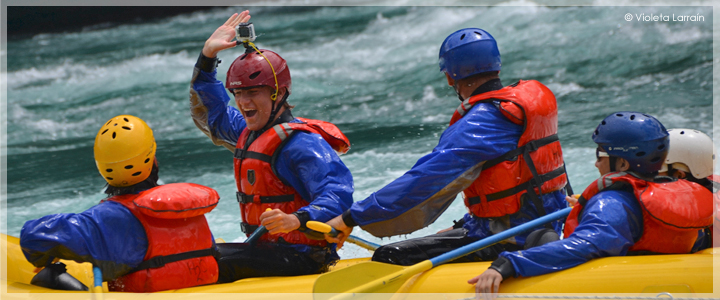 Experience an unforgettable time on the majestic Futaleufu River, riding it's turquoise water beneath towering snow-capped mountains and glaciers.  This is truly one of the great whitewater rivers in the world.
All our trips offer an extensive safety talk given by our experienced staff, followed by lessons in paddling and river rescue.
We offer 3 different sections, depending on the level of difficulty: 
Bridge to Bridge Section – Class III, IV, & IV+ (8 km)
This section is the most popular and one of the most exciting stretches of whitewater offered anywhere. It is not necessary to have previous whitewater experience to join us on this stretch. Referred to as the "the bridge to bridge section" the run includes numerous class III, IV and IV+ rapids including; "Puente Colgante", "Alfombra Mágica", Pillow, and "Mundaca" and numerous others. (Duration Approximately 4.5 hours)
Azul River to Bridge Section – Class III, IV, & V (14 km)
It's more than obvious that we want more adrenaline, so we'll add class V rapids to the Bridge to Bridge Section beggining in the Azul River. We paddle the famouse class V rapids on the Futaleufu "Terminator" and "Himalayas" and more. We guarantee that you will enjoy this section, its awesome rapids and its gorgeous surroundings. (Duration approximately 6 hours).
Full Day Rafting – Azul River to Macal Section – Class IV, V (20 km)
This section combines both the "Azul-Bridge" section, going farther down to the class 5 "Macal" section (left part of the river map). In terms of Challenging whitewater and breath taking scenery, this is perhaps the greatest day of whitewater rafting on Earth and includes four class 5 rapids and a dozen class 4. The seven hour run will include lunch in the middle. Participants should have previous whitewater experience before joining us on this trip or running the "Bridge to Bridge" section with us first.
What is included in all our rafting sections:
Professional Bilingual Guides
Safety Cataraft
Safety kayak(s)
All the gear (helmets, paddle jacket, wetsuit, life jacket, river shoes)
First Aid Kit
Transfer
Insurance
It depends on the trip, it will include snack or lunch.